Inside the Earth, the only parts made of molten rocks are the outer core and the small (to the scale of our planet) molten areas feeding volcanoes. The asthenosphere is ductile (deformable) but all the other layers are rigid and brittle. And this is why the asthenosphere plays a key role…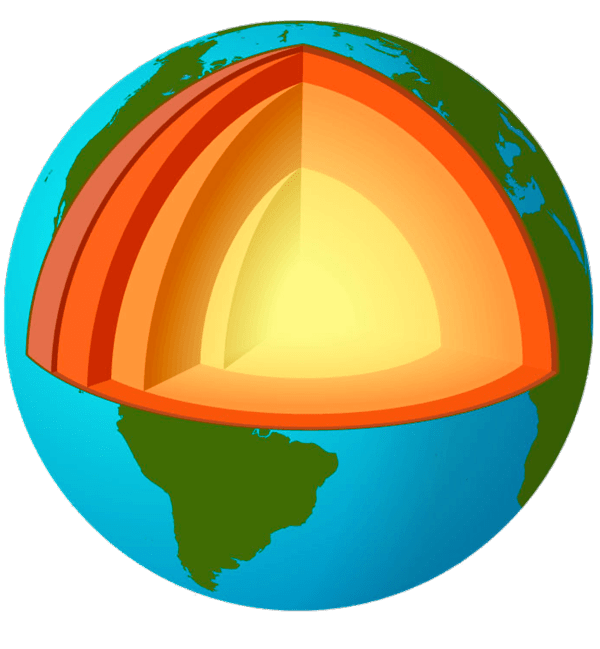 The lithosphere is divided in tectonic plates resulting from the decrease in temperature of the Earth since its formation: just as in a lava lake where the surface cools before the internal parts of the lake and cracks. The capacity of the asthenosphere to deform, allows the plates to be created at the mid ocean ridges location, to move slowly at the world surface, and to sink into the mantle, at the subduction zones.
We all can see the similarity between some continents' coasts. Antoine Wegener (1880-1930) went farther and discovered identical fossils on the coasts of South America, Africa, India, the Antarctic, and Australia. This would be the case only if continents had been connected together in the past and had been separated later. Wegener therefore demonstrated the theory of plate tectonics and proposed the name « Pangea » for this ancient supercontinent. Did you know? Now you do!
But what happens along the plates limits?
Depending on the direction in which neighboring tectonic plates move, their boundaries converge or diverge. At the level of the ocean ridges, the convection movements of the mantle bring up hot rock from depth. When the pressure is low enough (as this is the case at lower depth), the rock melts and oceanic crust is created. In the subduction zones, the older oceanic plate has become denser and, driven by its own weight, it sinks into the less dense asthenosphere. We will come back to this…
Because indeed, on Earth, volcanoes are everywhere but not anywhere ! They are mainly located along the plates limits, and it is not by accident. Only the hotspots (like Hawaii or Reunion Island) contradict this rule and pop up in the middle of the plates. Why? We don't really know but in this case, the magma comes from very deep : at the limit between the mantle and the core. Anyway, all the volcanoes are some kind of relief valves of the Earth releasing energy in the form of heat, from the Earth interior to the surface.
Follow a manual added link
A direct journey into the knowledge of the volcanic world by Anne Fornier and Fernando Minguela of Volcano Active Foundation.
"When we started giving the Volcano School masterclass to children in primary schools, we realized that all the books about volcanoes were fantastic, but none explained in a direct way and designed for the little ones, from their origin, their parts, types of volcanoes, dangers…" 
Educating our children in the Environment, through the knowledge of the volcanic world, is to give one more opportunity to the planet and its generation. By buying our book you collaborate in their education and that of thousands of children around the world